Dear Hug Bug Pals,
Hello, Hola, Bonjour!
**Good news! I was invited to Ottawa by the Governor General of Canada to attend a very special ceremony on August 25th to be invested into the Order of Canada. I received a lovely insignia for my work in music for children. Such an honour!
Fall has arrived in the Hug Bug Club and "I'm Ready for the Puddles!"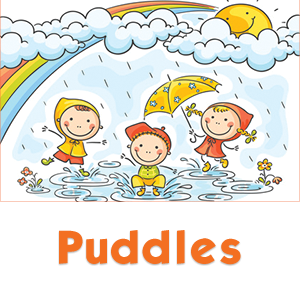 By Charlotte Diamond on My Bear Gruff
Copyright © Charlotte Diamond Music 1992 SOCAN

I'm ready for, you're ready for,
We're ready for the puddles!
I've got new boots… a raincoat, too…
I've got a hat… and it's bright blue…
The sky is gray… raining cats and dogs…
I'm ready for, you're ready for,
We're ready for the puddles.
I don't care… if it rains all day…
I can't wait… to go out and play…
Splishing and splashing… my cares away…
I'm ready for, you're ready for,
We're ready for the puddles. Splash!
A Gift For You!
Free Song Download!
Until October 21, 2017, I'm offering my newsletter subscribers a FREE download of "Puddles". CLICK HERE (or on the image of the children playing in the puddles, above) to go to the store, and then click on "Add to Cart". [Not a newsletter subscriber yet? Click here to sign up now so you'll be eligible for future offers!]

At checkout, enter the coupon code that you'll find in the Hug Bug Club Email newsletter. After you enter the code, you'll see a credit in your shopping cart of $0.99 for the song purchase. Then proceed through checkout to get immediate access to your song download. (If you aren't purchasing any other items, you won't be asked to enter a credit card. We do need your name, address, and Email address though, to process the order.)
I am so happy that the rain has finally arrived. We had such a hot, dry summer on the West Coast this year.  It was wonderful for swimming and growing vegetables and fruit in our gardens; but the forests and grasslands became very dry.  There were so many wildfires in the interior of British Columbia that some families had to leave their homes and towns to be safe.  Firefighters came from around the world to help fight the fires, not only in BC but in Washington, Oregon and California.  People also helped provide families and their animals with shelter and food.  Everyone worked together to give comfort and help those in need.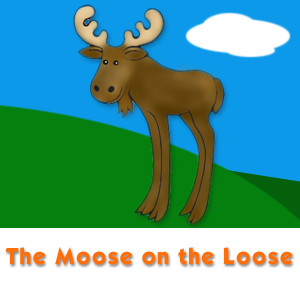 When it started to rain after several months of dry weather, we all breathed a sigh of relief. Wild animals like "Ottie the Otter" and "The Moose on the Loose" were also affected by the fire and smoke. Now the fires will finally be quenched and families can return to their homes and rebuild.  In many cases, the fires were started by lightning, but often they were started by humans.  There was a ban on campfires for all the summer. We all have to be careful.
In August, I moved from Richmond, near Vancouver, to live in the forest, on the ocean in Sechelt.  We travel there by ferry to the Sunshine Coast.  It is a beautiful spot and I love watching the squirrels, deer and birds that visit daily. Some bears, too! The deer love eating my flowers!  I wrote a song about the disappearance of my blossoms.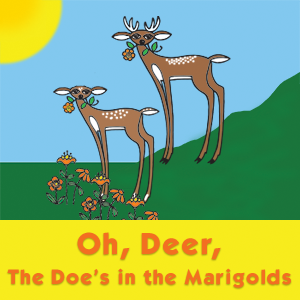 By Charlotte Diamond on Diamonds by the Sea
Copyright © Charlotte Diamond Music 2002 SOCAN
Chorus
Oh, Deer, the doe's in the marigolds,
Oh, Deer, she's munching the day lilies,
Oh, Deer, the buck nipped my roses,
He's nibbling the snapdragons, too!
1.
The fawns have trampled through the petunias,
Dancing and prancing all over the fuchsias,
Azaleas, hydrangeas are only bare branches,
And all the strawberries are gone.
2.
Why don't they like dandelions and nettles?
Why don't they eat all the horsetails and brambles?
What can I do to protect all my flowers?
And teach all the deer to eat weeds?
Oh, Deer, the Doe's in the Marigolds is now available on my website as a song download in MP3 format!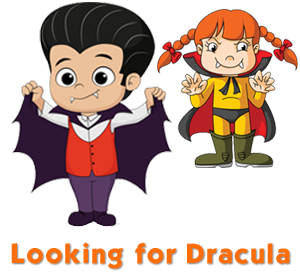 Have a Spooktacular Halloween and go Looking for Dracula! What will you be this year? Make your own costume!
Write to me anytime and send your ideas to me by email or visit my Charlotte Diamond Fan Page on Facebook. I always write back!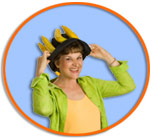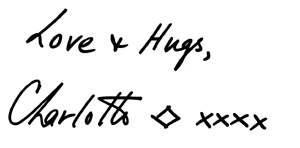 To join the Hug Bug Club, please send your name and address to our NEW mailing address:
Charlotte Diamond
The Hug Bug Club
6251 Chatsworth Rd.
Richmond, BC V7C 3S4
CANADA
or email

fanmail@charlottediamond.com