Happy Winter Holidays to my Hug Bug friends!
I have been having a wonderful time performing my Holiday Delight Concerts with my son, Matt.  It's the time of year to play my jingle bells and maracas and get everyone dancing to "Feliz Navidad".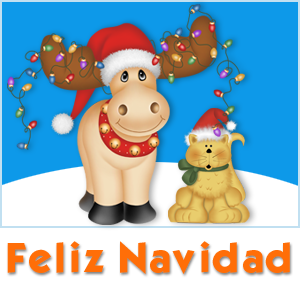 Words and Music by Jose Feliciano
© BMG Music
As recorded by Charlotte Diamond on the CD, "The Christmas Gift"
Chorus:
Feliz Navidad, Feliz Navidad,
Feliz Navidad, Prospero Ano y Felicidad.
Feliz Navidad, Feliz Navidad,
Feliz Navidad, Prospero Ano y Felicidad.
Verse:
I want to wish you a Merry Christmas,
I want to wish you a Merry Christmas,
I want to wish you a Merry Christmas,
From the bottom of my heart.
Now available as an MP3 song download on my website in both Vocal and Band Track versions.
We are enjoying our new home in Sechelt. There are so many birds and other wild animals that live here.  A juvenile Black Bear climbed up on our deck to eat the sunflower seeds that I had put out for the squirrels and birds.  I decided to take down my bird feeder as having a bear so close is not a good idea!  We don't want him to come around looking for food.  Soon the bears will be hibernating, and I can put out some seeds and suet for the birds when the weather is colder.  We want the animals around us to stay wild so that we can always enjoy sharing the forest with them.
Maybe… this winter we will have snow on the Sunshine Coast!   Right now, we have lots of rain, but I am hoping for some frosty weather.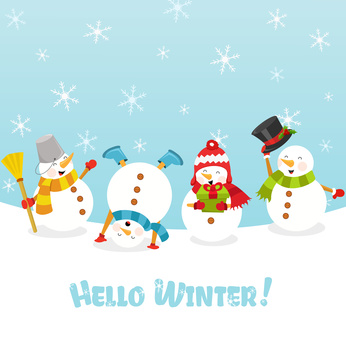 By Charlotte Diamond
from "Diamonds and Dragons"
Hello, Winter, how are you today?
I'm so glad that you have come my way.
Hello, Winter, say, you're looking fine,
Won't you have a cup of tea and join these friends of mine?
With your icicles on bicycles, riding in the snow,
Snowflakes falling, tickling my nose,
Sleigh rides; let's go skating 'round and 'round,
I'm so glad that you have come to visit in our town.
We can sing this song in French, too!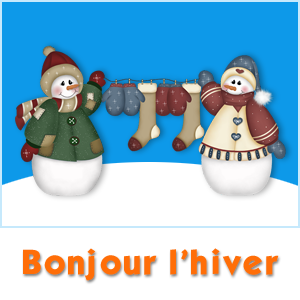 Par Charlotte Diamond et Paul Gitlitz
© 1992 Charlotte Diamond Music (SOCAN)
As recorded on the CD, Bonjour l'hiver
Bonjour l'hiver, Eh, comment ça va?
Je suis content que tu sois avec moi.
Bonjour l'hiver, tu te portes bien,
Reste un peu avec nous autres,
Chantons un refrain.
Ah, tes glaçons brillants, suspendus au toit,
Tes flocons de neige qui dansent autour de moi.
Allons patiner et glisser en traineau,
Je suis content quand tu arrives
Dans notre petit hameau.
Now available as an MP3 song download on my website!
Vocal Performance or Band Track
Winter is a wonderful time to read stories and use our imagination.  Just like "Four Hugs a Day", we need to read at least …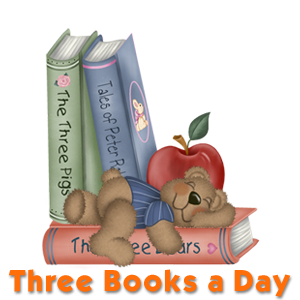 A variation of "Four Hugs a Day" by Charlotte Diamond
© Charlotte Diamond Music SOCAN 2004
Nobody reads enough books a day,
'Cause the minimum number is three,
We can read everywhere, on the floor, in a chair,
On a bus; there are stories to read.
Chorus:
Three books a day, that's the minimum.
Three books a day, not the maximum.
Three books a day, that's the minimum.
Three books a day, not the maximum.
Step One: Read a sign on the street,
Step Two: On the foods that we eat,
Step Three: In a comic book,
Step Four: A recipe that we cook.
Chorus
My Friend Morgan
I have a special friend named Morgan, who is only four years old and is battling leukemia. She has to receive many treatments at BC Children's Hospital to help her get well. It is a difficult time for Morgan and her family. A friend of theirs decided to ask children to draw and colour Unicorns and Rainbows for Morgan with wishes that she feel better soon. With their imaginations, they sent kindness across the miles to bring a smile to Morgan's face. Here are a couple of their drawings.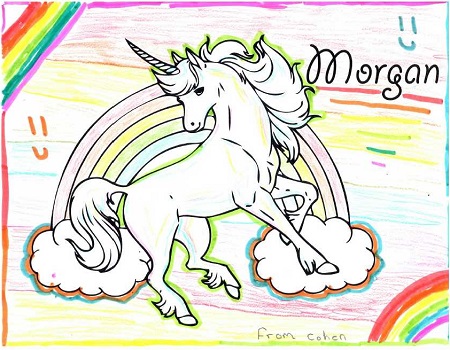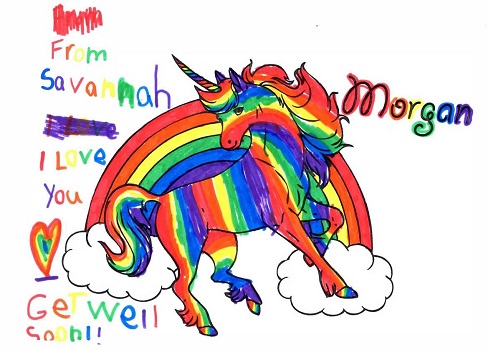 It is amazing how a small act of kindness can make such a difference in someone's life. As Morgan's Mom, Kelly, said: "The kind and encouraging words from all these amazing children will lift us in our dark moments."
Morgan loves Unicorns and Rainbows.  You might like to listen to this song on YouTube (a clip of "Fly High Unicorn" from my DVD, "Diamonds & Dragons") as you draw your own Unicorn and Rainbows.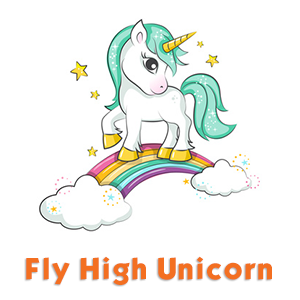 © Pat Rustand 1988  SOCAN
Arranged by Charlotte Diamond, Paul Gitlitz and David Jonsson
As recorded on "Diamonds and Dragons" CD and DVD
One day as I wandered over the hills, through the valleys so green
I noticed a rainbow up in the sky, the loveliest sight I have seen.
As I watched, a vision appeared as real to me as the day
A beautiful horse with wings and a horn took me far away.
Chorus:
Fly high unicorn, take me for a ride
Fly high unicorn, we'll travel far and wide.
'Tis the Season!
I have been ringing in the holiday season locally, with a Family Holiday Delight concert at the Lansdowne Centre as well as private appearances.On Saturday, December 9th, I'll be performing another Family Holiday Delight concert at City Square in Vancouver from 11:00 am to 12:00 pm. Please join me if you're in the area!
Are you still looking for the perfect stocking stuffer for your little one? My children's book, Slippery Fish in Hawai'i, makes a great gift! It measures just 5″ x 6″ x 0.5″ (126mm x 152mm x 13mm).
You'll also find lots of music on sale in my online store, including Bonjour l'hiver, 10 Carrot Diamond, and Diamonds by the Sea.
Click here to see all of my sale items.
A Gift for Newsletter Subscribers!
Free Song Download!
Until December 17, 2016, I'm offering my Newsletter subscribers only a free download of "Three Books a Day". Click here to go to the product page in my store, and then click on "Add to Cart". [Not subscribed to my Newsletter yet? Click here to sign up now so you'll be eligible for future offers!]
At checkout, enter the coupon code posted in the newsletter – after doing so, you'll see a credit in your shopping cart of $0.99 for the song purchase. Then just proceed through checkout to get immediate access to your song download!
(If you aren't purchasing any other items, you won't be asked to enter a credit card. We do need your name, address, and Email address though, to process the order and give you access to the download file.)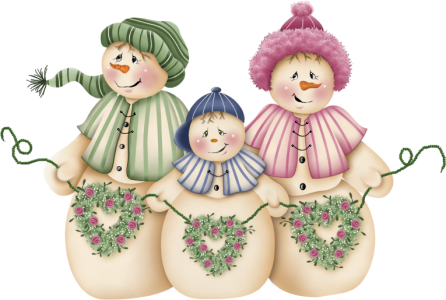 Please share the joy of the Holidays with children and families in need. Donating food, warm clothes, music and toys brings happiness and kindness to our communities.
Help to "Leave the World a Little Better"!
"Hugs and Good Wishes" to you and your
family for a Happy Holiday and a
Peaceful New Year 2018!
Remember to give "Four Hugs a Day" and to read "Three Books a Day"!
Write to me anytime and send your ideas to me by email or visit my Charlotte Diamond Fan Page on Facebook. I always write back!
To join the Hug Bug Club, please send your name and address to our NEW mailing address:
Charlotte Diamond
The Hug Bug Club
6251 Chatsworth Rd.
Richmond, BC V7C 3S4
CANADA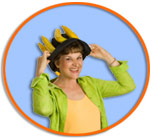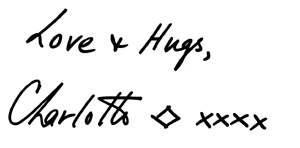 P.S. Write to me often! I love to receive your pictures and letters!
To join the Hug Bug Club,
please send your name and address
to our NEW mailing address:
Charlotte Diamond
The Hug Bug Club
6251 Chatsworth Rd.
Richmond, BC V7C 3S4
CANADA
or email

fanmail@charlottediamond.com