Write to Charlotte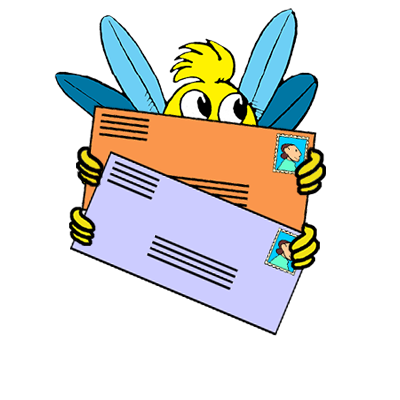 Welcome to my Hug Bug Club! I love to receive letters and drawings from you. Draw your own Hug Bug and write to me at:
Charlotte Diamond
The Hug Bug Club
7045 Porpoise Drive
Sechelt, BC, Canada
V7Z 0C8
Remember to include your name and address. I will write back to you! Your picture may also appear on my website!
You can also write to me by email at fanmail@charlottediamond.com.
Watch for my newsletters, filled with ideas, projects and new songs.
Remember, keep a song in your heart and walk on the sunny side of the street!
---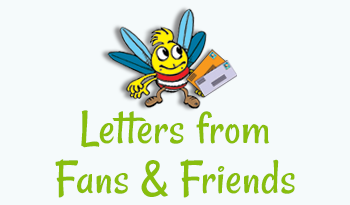 Here are some of the wonderful letters and notes that I have received from my friends and fans. Thank you for writing! I love to hear from you!
Ms. Diamond!

My brother Joe was really excited to let me know that he helped you out at BC Ferries the other day. When thinking about writing to you, I realized I wanted to share what a part of my life your music has been.

I remember seeing you in concert when I was a child, and naturally I wanted to share your music with my children and their friends. I actually think that my mom mailed my oldest child a CD for her first birthday, and I was amazed how all the words came back to me so quickly even after 20 years or so. In this day 'n age, other mothers have been amazed to hear that my children, husband and I get by just fine in our van without a DVD player, and when they ask what we do, we tell them that we sing! I've used your song "Going Metric" to teach my American husband a thing or two – ha! I've coined "The Laundry" as my personal theme song at times. "You Never Praise Me Enough" has inspired me to see things through my children's eyes on days when I need more patience. We save "Dracula" for Halloween. I've had "I Am A Pizza" on repeat to please a 2 year old who just can't get enough, and I've listened to my oldest child tell me how she can totally relate to "Why Did I Have To Have A Sister."

I could go on to tell you what each song has meant to me and my family at different stages, but what I need to say is thank you. Thank you for your beautiful crisp voice, your ability to articulate in different languages, how you relate to children and parents just the same and thank you for this opportunity.

Most sincerely,

Maryann Ball (Weeks)
Lauren, 7 Gabrielle, 3 James, 1
Fredericksburg, Virginia
Thanks for sharing, Maryann! C.D.
---
Dear Charlotte Diamond,

My daughter Arielle's preschool class loves your songs, especially "Slippery Fish" (aka "Octopus"). The teacher gives them a choice 3 songs they would like to sing, and they always request "Slippery Fish." They would sing slippery fish every morning at their preschool! They really love it!

I wanted to introduce myself. My full name is Khampeng, but my friends call me Khammie for short. I have a 4 year old (almost turning 5), and a 2 1/2 year old son. My family and I used to live in Canada (an hour from Toronto), but due to my husband's job, we now live in Northern California (an hour from San Francisco).

My educational background is an elementary school teaching credential and a Masters in Teaching English as a second language. I am currently a stay-at-home mom who volunteers at her children's schools. I really believe that music is important for language development and have seen music benefit my daughter in many ways. At 2 and a half years old, her speech development wasn't as advanced as some of our other friends. She would say words but not put the words together. Then all of a sudden one day, she started singing! That's when I knew she was able to string words together. She couldn't speak sentences at that time, but she could sing a whole song! The sentences came later at 3 and by now, her language skills are advanced and sometimes she speaks like an adult!

I have discovered how important music is to a child's language development and I really love how fast they can learn with music, and just how much they enjoy it!

For my career aspirations, I am hoping to work in the area of development, as a writer lyrics or children's books. I am thinking that as a teacher, I can teach one class at a time, but as a developer, my materials may be able to reach and teach many classes and many children at a time. That's why I admire your singing and your songs. The kids love them and you are able to teach and reach out to many classes and many children all over the country and all over the world!

Thank-you kindly!

Khammie Meksavanh
Northern California, USA
Thanks, Khammie! It was so nice to hear from you! C.D.
---
My 4-year old daughter and I really love your music! She loves your "New Potato Polka" song the best!

Your anonymous friend