Do you get at least "Four Hugs a Day"? Have you ever met the "Hug Bug" or a Big Foot called "Sasquatch"? Can you rap like a stegosaurus called, "Dicky Dinosaur"? Is there a "Laundry Monster" in your house? Have you ever gone "Looking for Dracula"? Would you like to learn to sing in French, Spanish or even Zulu?
You might like to meet Charlotte Diamond and hear about her great songs for kids and their families!
Check out Charlotte's videos on her official YouTube channel!
Charlotte Diamond's Animal Friends Picture Book Coming Soon!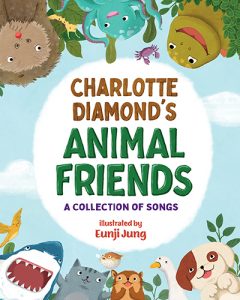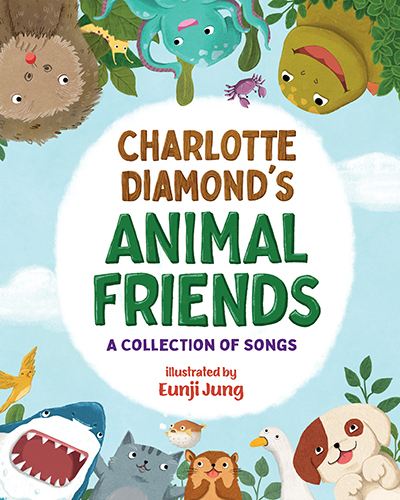 Award-winning singer and songwriter Charlotte Diamond brings you her very first picture-book song collection!
This book will captivate children, parents, grandparents, teachers and educators already familiar with Charlotte's songs and delight a whole new generation of readers entertained by the rhythm and whimsy of her lyrics. Throughout her career of over 35 years, songs like "Octopus (Slippery Fish)" and "Dicky Dinosaur" have become daily requests in schools and daycares around the world. Opening and closing with personal remarks from Charlotte about the importance of music and creativity in a child's life and the genesis of her most popular songs, this collection is a must have for educators and care providers.
This illustrated compilation of Charlotte's most popular animal-themed songs will bring delight to readers young and old, many of whom have been dancing to Charlotte's music for decades.
The book will be released in both print and digital versions on May 17, 2022. You can pre-order from Orca Books or your local bookseller.
Charlotte Diamond Appointed to Order of Canada
Shop Now
If you're looking for award-winning, family-friendly music in English, French and Spanish, you've come to the right place! Check out Charlotte's new downloadable songs, CDs, DVDs, music books, song cards, puppets and plush Hug Bugs in her Online Store. You can also find Charlotte's music on iTunes, including her latest CD, Diamonds by the Sea!
Charlotte Receives Award from the BCMEA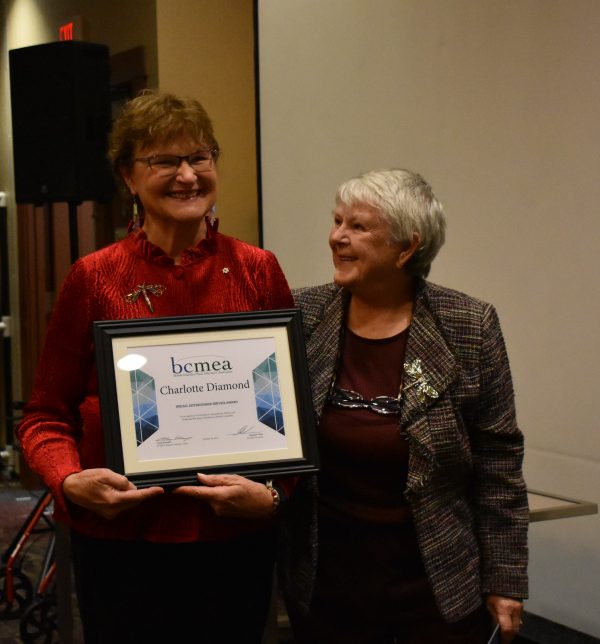 Following my Keynote Presentation on the value of Music Education in our schools at the BCMEA Conference in Richmond, October, 2019, I was very honored to receive the Special Distinguished Service Award from the BC Music Educators Association "In recognition of exemplary commitment, talent and leadership for music education in British Columbia."  Beside me in the photo is Evelyn Benson, who was co-director of my choir, the New Westminstrals at New Westminster Secondary 1969–1978.  My focus was always inclusion. Any student who wanted to sing was welcome.
About Charlotte Diamond
Would you like to see Charlotte in concert or at a workshop? Check her Concerts and Events Calendar to see whether she'll be performing in your area in the near future. To find out more about Charlotte, visit her Media and Bio section. You can also watch Charlotte's videos on her YouTube Channel, Charlotte Diamond Official!
The Hug Bug Club for Kids
Hey Kids! There's lots for you to do in the Hug Bug Club! Read Charlotte's Winter 2021 Newsletter, which is now online. (Also check Charlotte's newsletters in French and Spanish.) Print some of Charlotte's colouring pages, take a peek at the photos and kids' art that our visitors have submitted, or write to Charlotte yourself!
A Surprise for Charlotte from the Students at Collingwood School, West Vancouver!
Resources for Teachers
Teachers, visit the Teachers' Corner for information about Charlotte's Workshops and Keynotes, lesson plans, themes, and information about Charlotte's P.R.I.Z.E. Method in English and French, plus much more! Watch Charlotte's recent P.R.I.Z.E. Method Workshop on YouTube!
For more information, please contact us.