Description
Sorry, this item is no longer available on CD. It is, however, available for purchase on iTunes.
---
14 songs, lyrics included. Ages 2-9. (Also available in DVD.)
Parents' Choice Honors Award Winner and Canadian Juno Award nominee.
An uplifting CD with catchy rhythms and themes that celebrate Nature and the imagination of children. Songs include:
Dragons and Dinosaurs
Dicky, Dicky Dinosaur


Play Clip
Slimy the Slug
Earth, Water, Air and Fire


Play Clip
I Want a Purple Kitty for My Birthday, Mom
Fly High Unicorn
The Imp with Blood-Red Eyes
Stop and Listen
Hello Winter


Play Clip
Rubber Blubber Whale
Animals Have Personality


Play Clip
Co-operation
Lucky Streak


Play Clip
You Can Make a Miracle
"Diamonds and Dragons" is a great album! All three of our kids (6.5 to 2.5) love the songs and started singing along … months later we still love it."

Parent Review – Susan E. Ramlo, Hudson, OH
"You can't help but be charmed by Diamond's straight-ahead, tuneful approach to entertainment. One of the big favourites is the crowd-pleasing 'Dicky Dinosaur.'"

The Vancouver Sun, British Columbia, Canada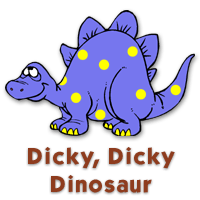 Dicky, Dicky Dinosaur lives in a swamp,
Dicky, Dicky Dinosaur gets very damp,
Dicky, Dicky is really neat,
But she always trips on her great big feet.
Thud!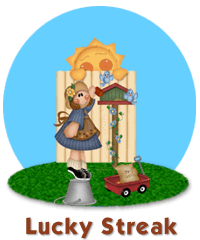 I got a smile on my face,
Shoes on my feet.
That's all I really need;
I guess I got a Lucky Streak.
I got the sun pouring down,
The birds sing so sweet.
That's all I really need:
I guess I got a Lucky Streak