Description
Charlotte loves watching the squirrels, deer and birds that visit her home daily. (Some bears, too!) The deer love eating her flowers, so she wrote a song about the disappearance of her blossoms.
This is a song download in MP3 format. Once we have confirmed your payment, you will be sent an Email with a link to a zipfile which contains the song download and a PDF file with the printed lyrics.
Oh, Deer, the Doe's in the Marigolds – Vocal


Play Clip
"Family performer, Charlotte Diamond, takes young listeners around the globe and into their own imaginations."

The San Diego Union Tribune, CA, USA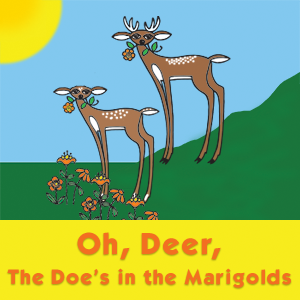 By Charlotte Diamond on "Diamonds by the Sea"
Copyright © Charlotte Diamond Music 2002 SOCAN
Oh, Deer, the doe's in the marigolds,
Oh, Deer, she's munching the day lilies,
Oh, Deer, the buck nipped my roses,
He's nibbling the snapdragons, too!
1.
The fawns have trampled through the petunias,
Dancing and prancing all over the fuchsias,
Azaleas, hydrangeas are only bare branches,
And all the strawberries are gone.
2.
Why don't they like dandelions and nettles?
Why don't they eat all the horsetails and brambles?
What can I do to protect all my flowers?
And teach all the deer to eat weeds?