Latest news! My new Children's Board Book, Slippery Fish in Hawai'i, has been selling very well to both families and teachers. It features colourful illustrations that highlight Hawai'i's vibrant underwater world. Most preschoolers in Canada, the USA and throughout the world can sing my "Slippery Fish" song (also known as "Octopus"). They wait for the final "Burp!"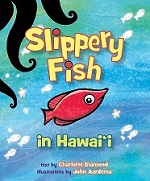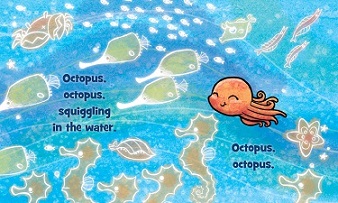 Slippery Fish, Slippery Fish, sliding through the water
Slippery Fish, Slippery Fish, Gulp, Gulp, Gulp!
Oh! No! it's been eaten by an… Octopus…
a Tuna fish… a Great White Shark … and a Humongous Whale!
Gulp, Gulp, Gulp ….BURP!
(Available on Charlotte's CDs
10 Carrot Diamond and 24 Carrot Diamond)
I had a wonderful summer on the West Coast of Canada, swimming in the ocean, kayaking, canoeing, and paddle boarding with my friends and family.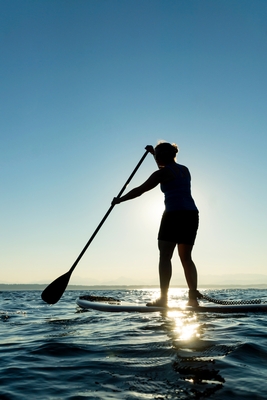 My grandsons, William and Jakob, love the beach at low tide, especially finding little crabs under the barnacle-covered rocks. This year there were several Moon Jellyfish floating in the water. Luckily, they do not sting! You could write a verse about them.
"Jellyfish, Jellyfish, swimming in the water …"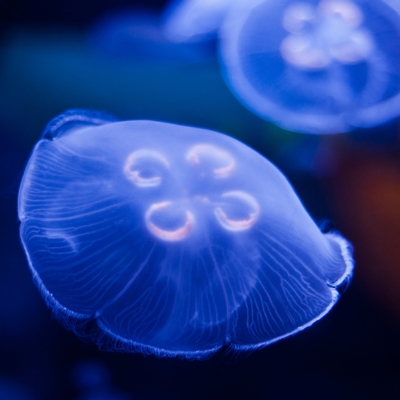 It was a very warm summer, and we loved eating fresh fruit and vegetables from the local Farmer's Markets. We will soon be harvesting our plums and apples in the Okanagan near Vernon. I grow flowers in my garden to attract the butterflies, bees and humming birds. Through Spring, Summer to Fall, there is a parade of changing colours in my garden.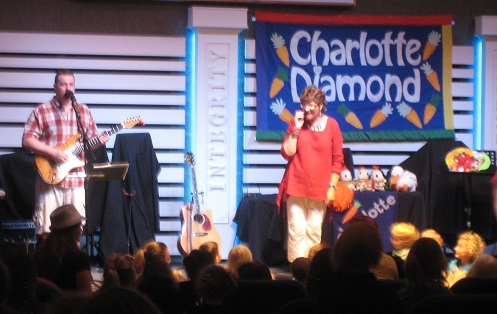 Now that the weather is becoming cooler, the autumn colours start to appear! We see the beautiful golden yellow, orange and purple of chrysanthemum flowers and the brilliant red leaves of the maple trees, like our red and white Canadian flag. Explore outdoors and count how many different coloured leaves you can find. Do you know the names of our deciduous trees, like birch, alder, oak, maple and weeping willow? Their leaves change colour, then fall to the ground. With bare branches, these deciduous trees rest through the cold winter.
Have you ever thought … What Kind of Tree Are You?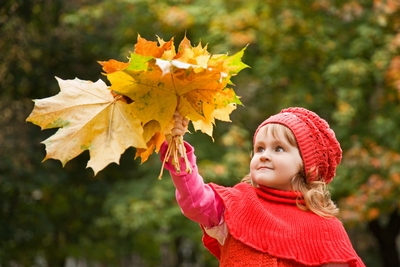 What kind of tree are you? What kind of tree are you?
Many kinds you can see, choose which one you'd like to be.
Trees, trees, trees, trees, trees.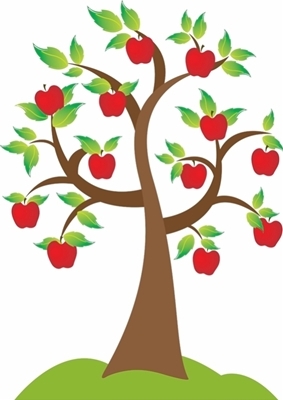 Are you an apple tree with blossoms pink and white?
Shining apples, red and green, can I take a bite?
Or are you a maple tree, that grows across our land?
Coast to coast, east to west, proudly you do stand.
Trees, trees, trees, trees, trees.
(Found on the CD Diamond in the Rough
and in A World of Music Book with CD)
Play clip of "What Kind of Tree are You"
Write your own verses! Here is one for the holidays:
Are you a Christmas tree, with decorated lights?
Do you wink; do you blink; and sparkle in the night?
Some trees are evergreens like fir, cedar, spruce, hemlock and pine trees. They do not lose their leaves in fall but stay green all winter. They look beautiful with snow draped on their branches. Instead of producing flowers and fruit like an apple tree, evergreens have cones.
Open up a cone to find the seeds. Be careful, they may be prickly! You can decorate cones with sparkles and a ribbon to hang indoors. Or roll pine cones in peanut butter or suet mixed with bird seed to feed the birds outdoors in the backyard or a park. During the cold winter months, it is interesting to watch the different birds that come to sample this tasty treat!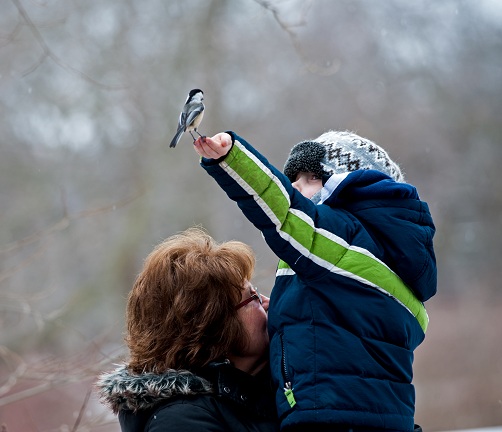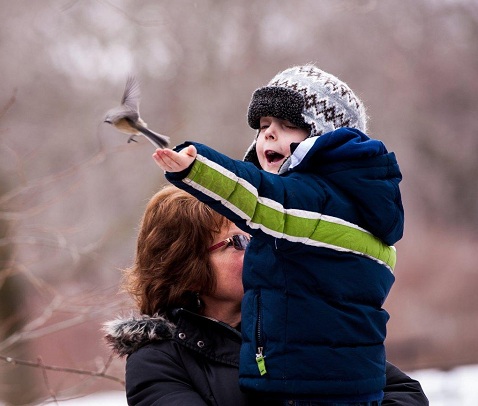 This fall, enjoy eating a harvest rainbow of fresh veggies and fruits that grow near your home. Read at least Three Books a Day and use your imagination every day! Write to me by mail, by email or on Facebook (Charlotte Diamond Fan Page).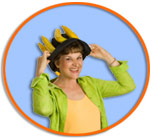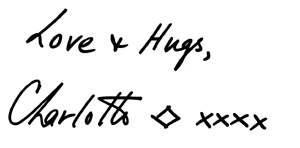 To join the Hug Bug Club,
please send your name and address
to our NEW mailing address:
Charlotte Diamond
The Hug Bug Club
6251 Chatsworth Rd.
Richmond, BC V7C 3S4
CANADA
or email

fanmail@charlottediamond.com