Dear Hug Bug Pals,
Spring is in the air!  The gentle scents and colours of white snowdrops, purple crocuses, yellow daffodils, pink hyacinths and red tulips are calling us to go outside and see Nature waking up. Just like the flowers, Spring wakes us up, too! We have more energy and want to try new things. "Each of us is a Flower, growing in life's garden."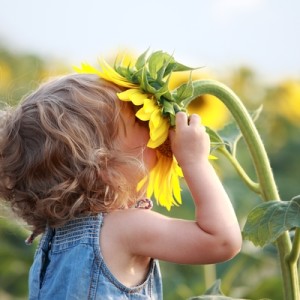 The days are getting longer and warmer.  There is still some snow on the ground in parts of Canada and the USA, but it won't be long before we take off our winter coats and put on our shorts and running shoes!
Hello Springtime!
Hello Springtime, how are you today?
I'm so glad that you have come my way.
Hello Springtime, say, you're looking fine,
I'll put on my rubber boots and we can have a time.
In the mud puddles, splashing, making mud pies
Looking for baby birds under rainy skies,
Flowers pop up into colours bright
Taking off my winter coat is always a delight!
From "Hello Winter" on the CD, "Diamonds and Dragons"
Play Clip of "Hello Springtime"
On April 22nd, let's celebrate Earth Day! Perhaps you will be doing some projects at school to learn more about our amazing Planet Earth. It is fun to collect leaves from the trees and bushes then sort them into different colours, shades of green (from light to dark) or different sizes and shapes. Learn the names of the trees and visit them through the seasons to see how they change.
Deciduous trees, like apple trees, will lose their leaves in fall. In spring, they have beautiful blossoms that grow into delicious apples. Coniferous trees, like cedars and firs, are evergreen through the year. They produce cones that hold their seeds tucked inside. Many animals such as birds, squirrels, raccoons, deer, insects and frogs, depend on trees for food, shelter and a place to build their homes and nests.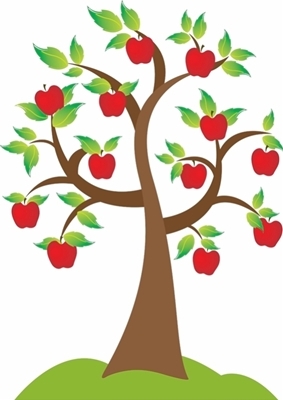 What Kind of Tree Are You?
Chorus:
What kind of tree are you? What kind of tree are you?
Many kinds you can see, choose which one you'd like to be.
Trees, trees, trees, trees, trees.
Are you an apple tree with blossoms pink and white?
Shining apples, red and green, can I take a bite?
Or are you a maple tree, that grows across our land?
Coast to coast, east to west, proudly you do stand.
Trees, trees, trees, trees, trees.
Chorus
From the CD, "Diamond in the Rough" and "A World of Music" Book
Play Clip of "What Kind of Tree are You"
Walking is my favourite outdoor activity any time of year! You may have already heard me sing this new song which I want to record soon with the Hug Bug Band.
I Have Shoes and I Can Walk
I have shoes and I can walk (x3)
Walk and walk and walk.
Add on your own ideas:
"I have shoes and I can dance, jump, run, stop and sleep Zzzzzz.!"
By Charlotte Diamond  SOCAN 2009
Happy Spring and Happy Earth Day! Playing outdoors keeps us happy, healthy, and intelligent.
Write to me anytime and send your ideas to me by email or visit my Charlotte Diamond Fan Page on Facebook.  I always write back!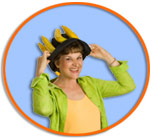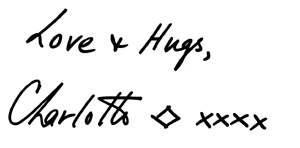 To join the Hug Bug Club, please send your name and address to our NEW mailing address:
Charlotte Diamond
The Hug Bug Club
6251 Chatsworth Rd.
Richmond, BC V7C 3S4
CANADA
or email

fanmail@charlottediamond.com