Hello, Bonjour, Hola, Buon Giorno, Aloha to all my Hug Bug Pals,
Spring is waking us up to new ideas and new plans! I love going for walks around my neighbourhood and saying "Hello" to the people that I meet. We still need to keep "Six Feet Away, that's the minimum" to be safe from spreading viruses, like COVID 19, but we can chat and smile even if we are wearing a mask! Smile with your eyes.
Nature has been resting through the darker, chilly Winter. Finally, snowdrops, yellow and purple crocuses are popping their heads out of the ground  and birds are singing in the morning. I love feeding the hungry birds and squirrels! Sing my song, "Whistle a Tune" and practice whistling to the birds. They might whistle back to you!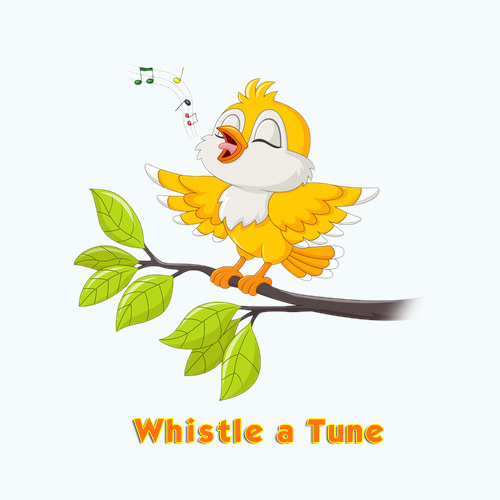 By Charlotte Diamond on "Diamonds by the Sea"
Copyright © Charlotte Diamond Music 1990 SOCAN
Chorus:
Whistle a tune while you're walking along,
Free as a breeze, make your own melodies,
Whistle a tune like the birds in the trees.
Let's all whistle a tune!
1. You can whistle in French, you can whistle in Greek,
In Cantonese, any language you speak,
Whistling's the same in every land.
Let's all whistle a tune.
2. You may think that what you do
Is not heard by the others,
But when you're whistling a happy song,
It gives a giggle to your sisters and your brothers.
Chorus
Now available for purchase as a song download on my web site!
Vocal Performance or Band Track
Soon there will be colourful flowers everywhere! Here is a song to welcome Springtime! What flower would you like to be? There are so many colours to choose from. I want to be a red tulip!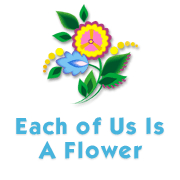 CHORUS
Each of us is a Flower, growing in life's garden,
Each of us is a Flower, we need the Sun and Rain.
Each of us is a Flower, growing in life's garden,
Each of us is a Flower, we need the Sun and Rain.
VERSE
Sun, shine your warmth on me,
Moon, cool me with your night,
Wind, bring the gentle rain,
Earth, take my roots down deep.
Recorded on  "24 Carrot Diamond",
With sign language in "Musical Treasures" Music Book,
In French on "Nous sommes tous comme les fleurs",
In Spanish on "Soy una Pizza"
Have fun drawing this song, adding new ideas for all the things children need to help them grow and learn, like family, friends, good food, clean water, pets, wild animals, books, stories, songs and hugs! You can see me singing this song on my video, 10 Crunchy Carrots, on the Internet Archive.
We all need to remember to wash our hands with soapy water and not touch our faces. We don't want to pass on any viruses. It is fun to sing a song while you wash your hands.  Sing these words to my song, "Octopus (Slippery Fish)". Teach this song to your friends. You can also watch the video on YouTube!

(To the tune of "Octopus (Slippery Fish)")
Wash your hands, wash your hands,
With slippery soap and water.
Top and bottom, through your fingers
Don't forget your wrists.
Wash your hands, wash your hands
With slippery soap and water.
Lots of bubbles, no more troubles
Wash them down the drain! Gulp, Gulp, Gulp!
By Charlotte Diamond 2020
A Gift for Our Email Subscribers!
Free Song Download!
Many of you may know my song, "The Hug Bug" and have signed up for my Hug Bug newsletters. Spring is a great time to clean and declutter our homes and share or recycle the things we no longer need or use. Here is "The Clutter Bug" song to help you get started!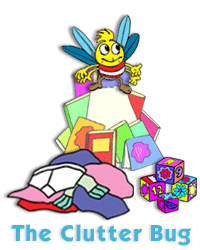 It's the Clutter Bug, the Clutter Bug, the Clutter Bug,
Never know where she's hiding,
It's the Clutter Bug, the Clutter Bug,
Watch out she'll clutter on you!
By Charlotte Diamond © 2009 SOCAN
Until March 31, 2021, I'm offering my newsletter subscribers a FREE download of "The Clutter Bug." CLICK HERE to go to the product page in my store. Then click on "Add to Cart". At checkout, enter coupon code [hidden – only available to newsletter subscribers]. After you do, you'll see a credit in your shopping cart of $0.99 for the song purchase. Then proceed through checkout to get immediate access to your song download. (If you aren't purchasing any other items, you won't be asked to enter a credit card. We do need your name, address, and Email address though, to process the order.)
Did you miss out on the free song download? Click here to subscribe to the Hug Bug newsletter and you'll be among the first to learn about our special offers!
What's New?
Watch my video, "Sing Along with Charlotte Diamond and Friends", on the Internet Archive.  The CD audio version is now available for download on iTunes and other digital platforms. Sing along to old-time classic songs for all ages such as, "Take Me Out to the Ball Game", "She'll be Comin' Round the Mountain", "Daisy, Daisy, Bicycle Built for Two" and "Four Hugs a Day", too.
My instrumental Band Tracks can now be downloaded on iTunes and other platforms.  Great for family Karaoke and school performances! We want to hear you sing!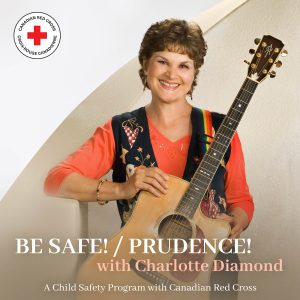 The Canadian Red Cross CD "BE SAFE!/PRUDENCE!" – A Child Safety Program for Schools and Families is now available on iTunes for downloading the songs and lyrics. Visit my website for more information. This bilingual program in English and French offers excellent advice for teachers and parents to keep our children safe and build their self-esteem.
Song Cards on Sale for a Limited Time
Until May 15, 2021, get 20% off on all of my Song Cards in English, French (Grands Livres), and Spanish (Libros Grandes)! Visit my store to start shopping!
Colour the illustrated song cards with washable felts, laminate, then add two rings at the bottom to flip forward the pages. Enjoy shared reading with my favourite songs like "Octopus (Slippery Fish)", "I am a Pizza" ("Je suis une pizza", "Soy una Pizza"), "Dicky Dinosaur", "Each of us is a Flower", and more! Song cards can also be laminated to use as readable placemats for home or in your Centre. Easy to  clean. For more information on how to use Song Cards, click here.
Let's sing and read. "Three Books a Day, that's the minimum."

Happy Springtime to my Hug Bug Friends!
Adios, mis amigos, Au revoir, mes amis, See you soon, my Hug Bug Buddies. Keep singing and walking!
"I Have Shoes and I Can Walk"
Happy Easter and Happy Earth Day!
I love to receive your letters and drawings. Write to me anytime and send your ideas to me by email or visit my Charlotte Diamond Fan Page on Facebook. I will always write back!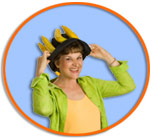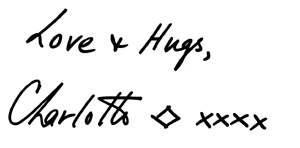 To join the Hug Bug Club, please send your name and address to our NEW mailing address:
Charlotte Diamond
The Hug Bug Club
7045 Porpoise Drive
Sechelt BC V7Z 0C8
CANADA
or email

fanmail@charlottediamond.com