Description
Whistle a tune and sing along with Charlotte on this cheerful song from her album, Diamonds by the Sea.
I woke up this morning to the singing of chickadees. I went outside and whistled to the birds in my backyard. They whistled back to me! Can you whistle or tweet like a bird? They might tweet back to you!

Charlotte Diamond
This is a song download in MP3 format. Once we have confirmed your payment, you will be sent an Email with a link to a zipfile which contains the song download and a PDF file with the printed lyrics.
Whistle a Tune – Vocal


Play Clip
"Family performer, Charlotte Diamond, takes young listeners around the globe and into their own imaginations."

The San Diego Union Tribune, CA, USA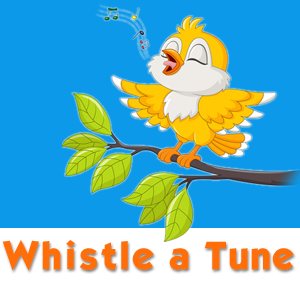 By Charlotte Diamond on "Diamonds by the Sea"
Copyright © Charlotte Diamond Music 1990 SOCAN
Chorus:
Whistle a tune while you're walking along,
Free as a breeze, make your own melodies,
Whistle a tune like the birds in the trees.
Let's all whistle a tune!
1. You can whistle in French, you can whistle in Greek,
In Cantonese, any language you speak,
Whistling's the same in every land.
Let's all whistle a tune.
2. You may think that what you do
Is not heard by the others,
But when you're whistling a happy song,
It gives a giggle to your sisters and your brothers.
Chorus