Description
Here is a new song I wrote about the "Clutter Bug." She definitely lives in my house! Reduce, Recycle and Reuse to chase away the Clutter Bug Blues.
This is an instrumental-only song download in MP3 format. Once we have confirmed your payment, you will be sent an Email with a link to a zipfile which contains the song download and a PDF file with the printed lyrics.
The Clutter Bug – Instrumental Band Track
Play Clip: MP3
"Family performer, Charlotte Diamond, takes young listeners around the globe and into their own imaginations."

The San Diego Union Tribune, CA, USA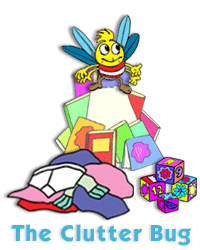 by Charlotte Diamond SOCAN 2009
Based on the original song, "The Hug Bug"
© Charlotte Diamond Music 1986
Chorus:
It's the Clutter Bug, the Clutter Bug, the Clutter Bug,
Never know where it's hiding,
It's the Clutter Bug, the Clutter Bug,
Watch out it will clutter on you!