Hello, Bonjour, Hola to my Hug Bug Pals!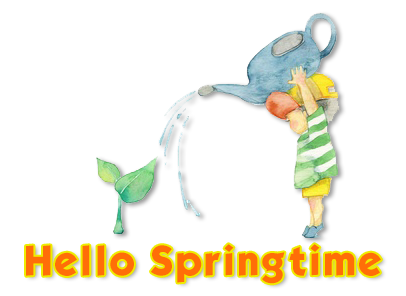 by Charlotte Diamond
Hello, Springtime, how are you today?
I'm so glad that you have come my way.
Hello, Springtime, say, you're looking fine,
I'll put on my rubber boots and we can have a time.In the mud puddles, splashing, making mud pies
Looking for baby birds under rainy skies,
Flowers pop up into colours bright,
Taking off my winter coat is always a delight!
From the song "Hello Winter" on "Diamonds and Dragons"
and in "A World of Music Music Book" (also available with CD)
A Gift for Our Email Subscribers!
Free Song Download!
Springtime inspires me to chase away "The Clutter Bug" blues and clean up my home. There are so many things that I don't use any more that can be donated to Thrift Stores and help charities. Books can be given to the Library. It feels good to share! Download "The Clutter Bug" (Hug Bug) song on my website and sing!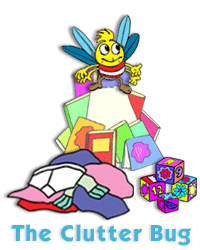 Until April 30, 2018, I'm offering my newsletter subscribers a FREE download of "The Clutter Bug." CLICK HERE to go to the product page in my store. Then click on "Add to Cart". At checkout, enter coupon code [hidden – only available to newsletter subscribers]. 
After you do, you'll see a credit in your shopping cart of $0.99 for the song purchase. Then proceed through checkout to get immediate access to your song download. (If you aren't purchasing any other items, you won't be asked to enter a credit card. We do need your name, address, and Email address though, to process the order.)
Did you miss out on the free song download? Click here to subscribe to the Hug Bug newsletter and you'll be among the first to learn about our special offers!
In Sechelt, we had a very cold, snowy winter and there is still lots of snow on our local mountains. I am so ready for sunshine and warm weather! Springtime brings rainy days with lots of "Puddles" to splash in. The rain makes our gardens, fields and forests grow. Let's Celebrate Earth Day on April 22 – a special day that reminds us to protect our Earth and do what we can to create a healthy environment for all living things. Plant some flowers and vegetables around your home, at school, and in your community.  Did you know that most fruits and vegetables that we eat have flowers? "Each of us is a Flower, Growing in Life's Garden".  Even bananas come from a flowering banana tree plant. This delicious fruit is grown in warm climates all around the world.
Now "All the Nations Like Bananas"! I love singing this song and dancing to the Latin-American rhythm!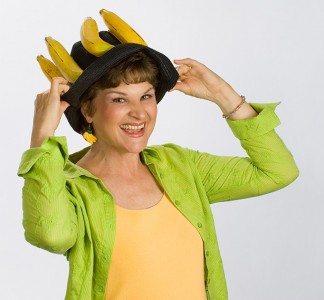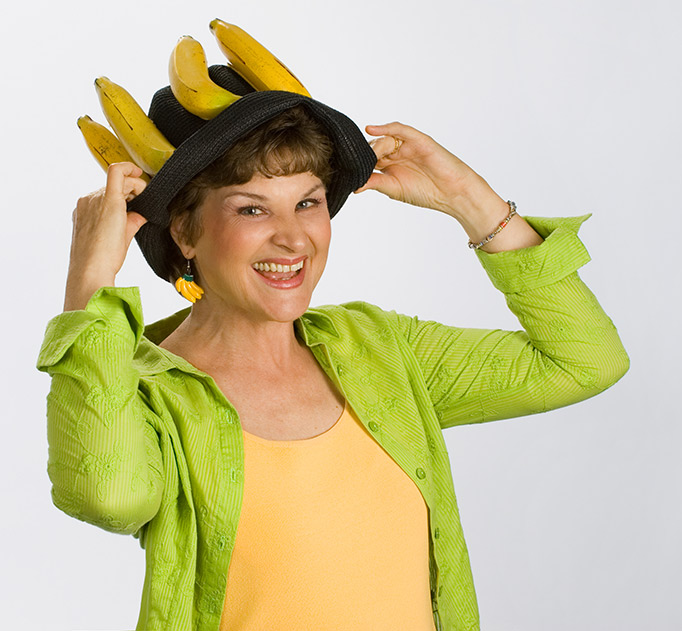 ALL THE NATIONS LIKE BANANA!
Traditional Folksong of Nicaragua
Adapted by Charlotte Diamond, Arranged by Paul Gitlitz 1992 SOCAN
© Charlotte Diamond Music
As recorded on "24 Carrot Diamond" and in "A World of Music" Music Book CHORUS
All the nations like banana
All the races like banana
All the nations like banana
All the races like banana.
1.
Green banana – Banana, Yellow banana – Banana,
Red banana – Banana, Ripe banana – Banana.
Big banana – Banana, Little banana – Banana,
Long banana – Banana, Short banana – Banana.
Banana, banana, banana!
CHORUS
2.
The Americas like it – Banana, Europe like it – Banana,
Asia like it – Banana, Africa like it – Banana.
Mama like it – Banana, Papa like it – Banana,
Grandma like it – Banana, Baby like it – Banana.
Banana, Banana, Banana!
CHORUS
Let's make fried bananas, dried bananas, sliced bananas and yogurt, banana bread, banana pie, and banana split! Mmmmm!You can learn to sing this song in Spanish and French, too. "Todo el Mundo Come Banana" and "Tout le monde aime les bananes"! You may also know another favourite food song, "I am a Pizza", "Soy una Pizza" and "Je suis une pizza". You are eating in three languages! That's Trilingual!
On Sale Now!
We are having a 
Special Sale
 on my web site for my Spanish CD,  "Todo el Mundo Come Banana" and five of my Spanish Song Cards (Libros Grandes) that you can colour and make into a Big Book. It is fun to sing and read in different languages. The pictures help you learn the words.

Happy Springtime to my Hug Bug Friends!
Adios, mis amigos, Au revoir, mes amis, Good bye, my Hug Bug Buddies. Keep singing and walking!
"I Have Shoes and I Can Walk"
Happy Easter and Happy Earth Day!
I love to receive your letters and drawings. Write to me anytime and send your ideas to me by email or visit my Charlotte Diamond Fan Page on Facebook. I always write back!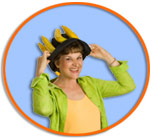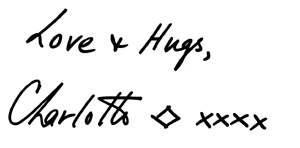 To join the Hug Bug Club, please send your name and address to our NEW mailing address:
Charlotte Diamond
The Hug Bug Club
7045 Porpoise Drive
Sechelt BC V7Z 0C8
CANADA
or email

fanmail@charlottediamond.com