Happy Fall and Happy Harvest Time!
We had a very hot summer in Sechelt on the West Coast with lots of fun swimming, kayaking and paddle boarding.  I now have a lovely new grandson, Fraser Diamond, to sing to and play with. My son, Matt, who often performs with me, loves to sing to his little boy and create new songs. Fraser is four months old now and trying to sing, too! He imitates the shape of our mouth with Ah's, Oh's and Oo's. He also greets us with lovely smiles! Such fun being a Grandma!
When I was still teaching High School French and Music in New Westminster, BC, Matt, as a baby, would come to school with me for my choir practices. He could sing full songs by age two. His brother, Thomas, sang a solo on "The Days of the Week" for my CD, "Diamond in the Rough" at age seven. Now I create songs and stories with Thomas' sons, William (12) and Jakob (9). Being their "Nana" is very special. The Beat Goes On!  Speaking of beats! My new song, "Put the Beat in Your Feet" gets us up and moving all the parts of our body.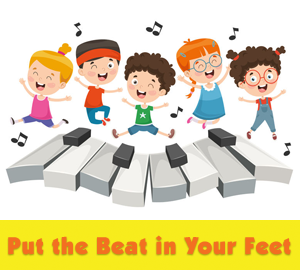 By Charlotte and Matt Diamond,
Recorded on "Diamonds by the Sea"
Put the beat in your feet,
Put the beat in your feet,
Put the beat in your feet
Move them around,
Up and down.
Put the beat in your feet!
**Move the beat around to your knees, your hips, your arms, your head, your hands, your fingers, your eyes … anywhere you want the beat to go. Play and sing this song as a game, taking turns being the leader.  Make rhythms with clicks, snaps, claps and taps.
Another movement song is, "I Have Shoes and I Can Walk". Name some different kinds of shoes – slippers, flip flops, runners, rubber boots, tap shoes, soccer boots, dancing shoes, ballet slippers, ski boots… So many different shoes to wear.  Sometimes, I like just having bare feet on a sandy beach!  I wrote a new verse for this song, for all my buddies who like to roll –  with wheelchairs, scooters, skateboards and bikes.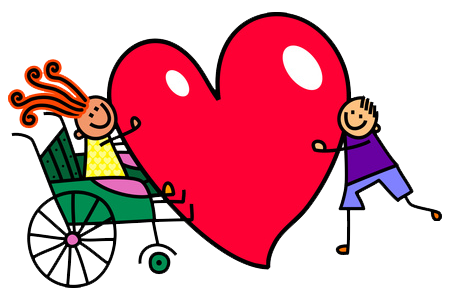 I Have Wheels and I Can Roll – by Charlotte Diamond
Variation
I have wheels and I can roll;
I have wheels and I can roll
I have wheels and I can roll;
Roll and roll and roll!
A Gift For You!
Free Song Download!
Until October 13, 2019, I'm offering my newsletter subscribers a FREE download of "I Have Shoes and I Can Walk". CLICK HERE to go to the store, and then click on "Add to Cart". [Not a newsletter subscriber yet? Click here to sign up now so you'll be eligible for future offers!]
At checkout, enter the coupon code that you'll find in the Hug Bug Club Email newsletter. After you enter the code, you'll see a credit in your shopping cart of $0.99 for the song purchase. Then proceed through checkout to get immediate access to your song download. (If you aren't purchasing any other items, you won't be asked to enter a credit card. We do need your name, address, and Email address though, to process the order.)
Be creative with this song and make new verses. Draw a picture of you wearing your favourite shoes or boots. I love my hiking boots for exploring the forest trails where I live in Sechelt, BC. Here's a video for the French version, "J'ai des souliers, je peux marcher" (I Have Shoes and I Can Walk), recorded on "Diamonds by the Sea".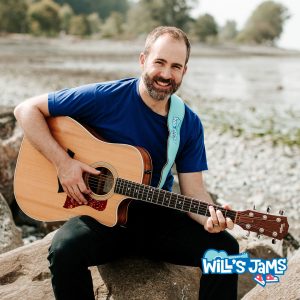 This spring, I took part in a video for the City of Vancouver with family performer, Will Stroet (Will's Jams). He wrote the song, "Grandma on the Move" and I sang it with him as "Grandma". No matter what age we are, we need to walk, bike and travel safely to school and around our communities.  I loved riding a bike for this video.
Visit Will's website to see more of his videos and songs. www.willsjams.com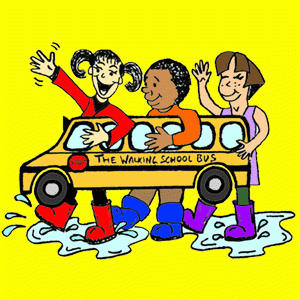 My song, "The Walking School Bus" or "l'autobus scolaire pédestre" (in French), has some good tips on how to walk safely to school with your friends and a trusted adult.
Find out about the Walk to School programs in your area.  You may want to start your own  "Walk to School" group!  Riding your bikes safely together is good way to travel to school.
The Walking School Bus
By Charlotte Diamond  SOCAN 2004
From "Diamonds by the Sea" and "The Walking School Bus"
(Chorus)
When I go to my school,
I like to walk and I'm no fool,
With my friends, I'm just fine.
Riding the Walking School Bus.
1.
One of our parents comes along,
We whistle and talk or sing a song,
Who needs a car when it's not too far?
Riding the Walking School Bus.
Visit my web site for full lyrics and more information about the Walking School Bus programs.
While strolling with your friends and family, you can notice the many changing colours of Fall. It is Harvest Time and our gardens are full of tasty, multi-coloured vegetables and fruits, such as orange carrots! Do you know the "10 Crunchy Carrots" countdown song?
I like to prepare carrots and green peas, cabbage salad, yams and mashed potatoes for Thanksgiving dinner plus pumpkin or apple pie for dessert. Being together makes Thanksgiving a special celebration. I am thankful for my family and friends and the beauty of nature that surrounds us in all seasons. This Thanksgiving, Harry and I will be in Scotland visiting my family and walking on the rolling hills near Dumfries.
Soon you can choose a pumpkin to carve a Jack-o-Lantern for Halloween. What will your costume be this year? You might be a "Sasquatch" or an "Abominable Snowman" (Yeti)! I have my Dracula cape and my binoculars ready to go "Looking for Dracula"!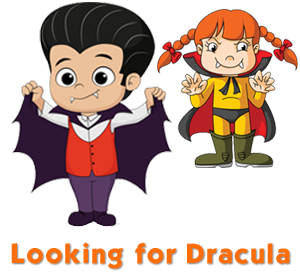 Visit my YouTube Channel – Charlotte Diamond Original. You'll find lots of videos there, including my recently-posted video, "Sing Along with Charlotte Diamond" with  songs, like "Take Me Out to the Ballgame" and "She'll Be Coming "Round the Mountain".
Visit my Web Site and write to me by email or visit my Charlotte Diamond Fan Page on Facebook. I always write back!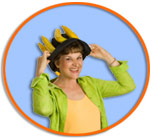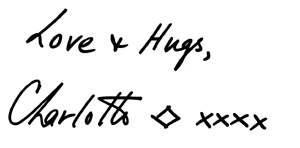 To join the Hug Bug Club, please send your name and address to our NEW mailing address:
Charlotte Diamond
The Hug Bug Club
6251 Chatsworth Rd.
Richmond, BC V7C 3S4
CANADA
or email

fanmail@charlottediamond.com