Dear Hug Bug Pals,
The Hug Bugs are singing, "Hello, Hola, Bonjour!" This new song teaches some different ways to say, "Hello". Sing along and teach your friends and family. Echo these greetings and add on your own!

By Charlotte Diamond on Diamonds by the Sea
Copyright © Charlotte Diamond Music 2014 SOCAN

Hello … Hola (Spanish) …
Bonjour (French) … Konichiwa (Japanese) …
Hello … Lay ho ma (Cantonese) …
Nee how (Mandarin) …  Namaste (Hindi) …
Hello … Sat sri akal (Punjabi) …
Shalome (Hebrew) … Kumasta (Filipino) …
Hello … Buon Giorno (Italian) …
Guten Tag (German) …  Aloha! (Hawaiian) …
Hello … Hola … Bonjour …
I'm so glad you're here!
Fall is a time for new beginnings, making new friendships and connecting with others. Our friends and family support us when we are learning new things. They cheer us on! Here is my new song, "Connected".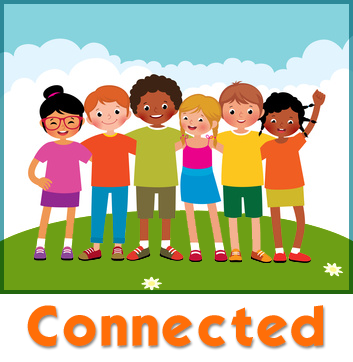 By Charlotte Diamond on Diamonds by the Sea
Copyright © Charlotte Diamond Music 2004 SOCAN

Chorus
I feel connected; I feel respected
With my family and with my friends,
Like a tower, I've got power
With an energy that never ends.
I need community and my teachers
To watch my steps as I grow,
Take my hand, let's go together
For there's so much I want to know!
Verse
Moving too fast, make this day last
For very soon I'll be grown,
Time goes by and you'll ask why
The early years have just flown?
Jump on our bikes; let's go for a hike
All that I want is your time,
It's simple to see; just listen to me
And share your world with mine.
Chorus with "We"
A Gift For You – Free Song Download!
Until October 14, 2016, I'm offering all of my fans a FREE download of "Connected". CLICK HERE (or on the image of the children above) to go to the store, and then click on "Add to Cart". At checkout, enter coupon code fall2016hbc – after you do, you'll see a credit in your shopping cart of $0.99 for the song purchase. Then proceed through checkout to get immediate access to your song download. (If you aren't purchasing any other items, you won't be asked to enter a credit card. We do need your name, address, and Email address though, to process the order.)
Are you learning a new sport?  My grandson, Jakob is now playing soccer. His older brother, William is learning karate. I love to play basketball and hike.  Fall is in the air and the days are getting shorter, but there is always time to go outdoors to run through the colourful leaves and play!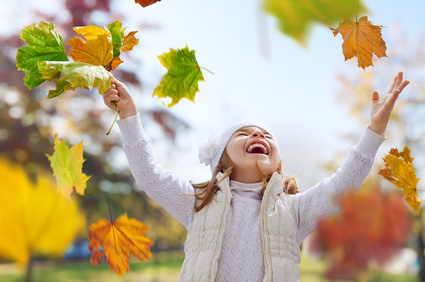 Now that Autumn is here, it means that Thanksgiving is just around the corner. What are you thankful for this year? I am so thankful for YOU!
It's Harvest Time and our gardens are full of tasty, colourful vegetables and fruits. How many different colours did you eat today? I love orange crunchy carrots! Have you seen my video, "10 Crunchy Carrots"? You can watch it on my YouTube channel HERE. Count down and crunch along!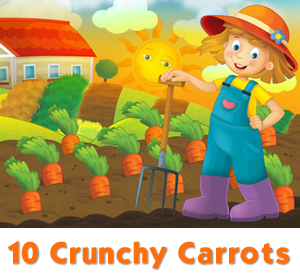 By Charlotte Diamond
on 10 Carrot Diamond /10 Crunchy Carrots DVD
Copyright © Charlotte Diamond Music 1985 SOCAN
10 crunchy carrots, all yours and mine
My gerbils ate one and now there's just 9
9 crunchy carrots, let's bake them in a cake
Sasquatch ate one and now there's just 8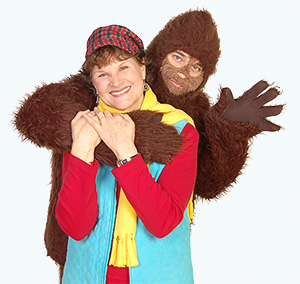 8 crunchy carrots, delicious to munch
Your hamster ate one and now there's 7 in a bunch
7 crunchy carrots, let's make some sticks
My sister ate one and now there's just 6
6 crunchy carrots, sweet as honey from the hive
The bees ate one and now there's just 5
5 crunchy carrots, a scratch at the door
The imp wants one and now there's just 4
4 crunchy carrots, a treat for you and me
But the worms got one and now there's just 3
3 crunchy carrots, what can we do?
Your brother took one and now there's just 2
2 crunchy carrots, a knock at the door
Dracula wants one and now there's just 1 more
1 crunchy carrot broken in two
Gives a piece for me and a piece for you. Crunch!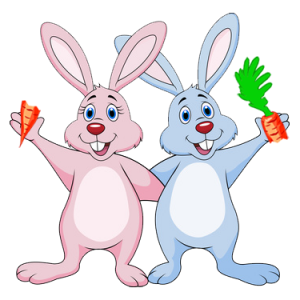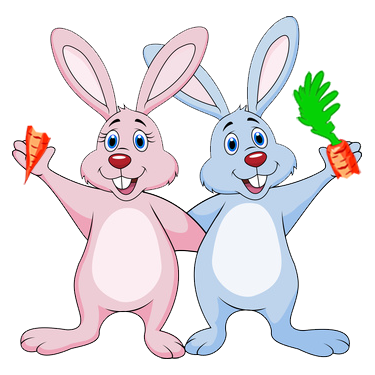 "10 Crunchy Carrots" is now available on my website as a song download in MP3 format, too!
Halloween is Coming Soon!
Have a Spooktacular Halloween and go Looking for Dracula! What is your Halloween costume this year?  Use your imagination and create your own costume with creepy makeup! I will be Dracula with binoculars, my cape and my fangs! See my Dracula puppet on my website. He is pretty cool! Now you can get "Looking for Dracula" on my website as an MP3 song download, too!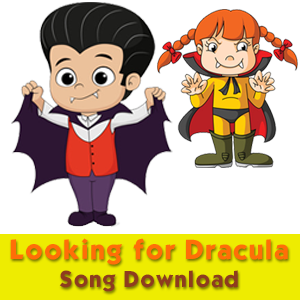 Have a safe and Spooktacular Halloween! Write to me anytime and send your ideas to me by email or visit my Charlotte Diamond Fan Page on Facebook. I always write back!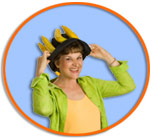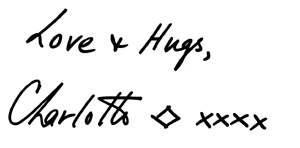 To join the Hug Bug Club, please send your name and address to our NEW mailing address:
Charlotte Diamond
The Hug Bug Club
6251 Chatsworth Rd.
Richmond, BC V7C 3S4
CANADA
or email

fanmail@charlottediamond.com