Winter is my favourite season! I love the frosty, crisp days. The autumn leaves have been raked and nature is preparing for the quiet time of year. Bears will be hibernating in their dens, squirrels will be sleeping in their drey or nest, and soon the mountains around Vancouver will be draped in a white, snowy blanket. I love to ski and the ski hills around us will soon be open. When it snows in town, everyone becomes very exited about making snow angels, snowballs or a snowman like "Frosty." It is also a great time to sing together, dance and celebrate the season with your families and friends.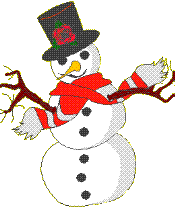 Hello Winter, how are you today?
I'm so glad that you have come my way.
Hello Winter, say, you're looking fine.
Won't you have a cup of tea and join these friends of mine?
With your icicles on bicycles, riding in the snow,
Snowflakes falling, tickling my nose,
Sleigh rides, let's go skating 'round and 'round.
I'm so glad that you have come to visit in our town!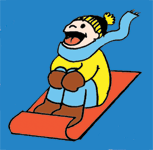 In French!
Bonjour l'hiver, Eh, comment ça va?
Je suis content que tu sois avec moi.
Bonjour l'hiver, tu te portes bien.
Reste un peu avec nous autres, chantons un refrain.
Ah, tes glaçons brilliants suspendus au toit.
Tes flocons de neige qui dansent autour de moi,
Allons patiner et glisser en traineau.
Je suis content quand tu arrives dans notre petit hameau.
From "Bonjour l'hiver" (now on CD)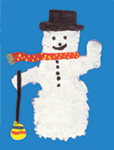 When it is cold outside, it is a perfect time to decorate the house and make special treats for the Holidays. Do you have a special meal for this time of year? I like to bake cookies, but I have to hide them so that they don't all disappear before the celebrations! Here is a new song that I wrote for my friend, Sherry, who likes to make cookies as gifts for family and friends. Do you like to make your own gifts?
Listen to a sample of "Sherry's Cookies"
What is your favourite cookie?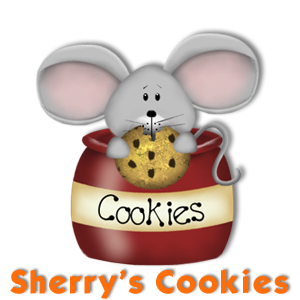 © Charlotte Diamond Music SOCAN 2004
Chorus:
Sherry's cookies, what a delight!
Sherry's cookies ready to bite,
Sherry's cookies, Oh, what fun!
I want to taste every one.
Made with care and taking time,
A gift for friends that looks so fine,
Tied with a ribbon in a box,
I hope she's making lots and lots… lots and lots of …
Chorus
Hug Bug cookies and chocolate chip,
Peanut butter and oatmeal are always a hit!
Gingerbread and butterscotch,
I hope she's making lots and lots… lots and lots of …
Chorus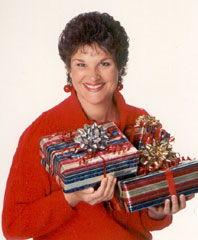 Savour each cookie and make it last
The celebration will soon be past.
For special gifts, you have to wait
For it takes time to create…
Chorus
Mothers and Daughters, Fathers and Sons,
Find a recipe; let's have some fun
Bake some cookies for the family
A gift of love that's oh, so yummy!
Yummy in your tummy!
Chorus
Write to Charlotte: fanmail@charlottediamond.com
to let her know how you like the new song!

This Holiday season, remember others who need our help. UNICEF helps children around the world. Visit http://www.unicef.ca in Canada or http://www.unicef.org in the USA. We can also donate to organizations that help families in our own community to have a Happy Holiday. Give a special "Hug" to your family and "Leave the World a Little Better." Have a wonderful winter and let's welcome in a Peaceful New Year!

Have a wonderful winter and
let's welcome in a Peaceful New Year!
Feliz Navidad, Love and Hugs,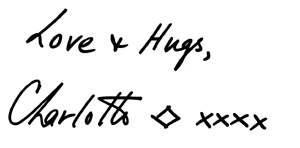 P.S. Write to me often! I love to receive your pictures and letters!
To join the Hug Bug Club,
please send your name and address
to our NEW mailing address:
Charlotte Diamond
The Hug Bug Club
5005 Vista View Crescent
Nanaimo, BC V9V 1L6
CANADA
or email

fanmail@charlottediamond.com