Dear Hug Bug Friends,
Hello Summer, Bonjour l'été, Hola Verano!
In Sechelt, we had a very cool, rainy Spring, but the gardens have loved the moisture. We do live in a rainforest! The flowering bushes like rhododendrons and azaleas are spectacular with so many beautiful colours!  
I love singing "Each of us is a Flower" when I am planting or weeding in my flower garden. Each flower is unique and beautiful, just like us!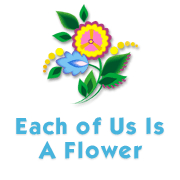 CHORUS
Each of us is a Flower,
Growing in life's garden,
Each of us is a Flower,
We need the Sun and Rain.
VERSE
Sun, shine your warmth on me,
Moon, cool me with your night,
Wind, bring the gentle rain,
Earth, take my roots down deep.
Recorded on  "24 Carrot Diamond",
With sign language in "Musical Treasures" Music Book,
In French on "Nous sommes tous comme les fleurs",
In Spanish on "Soy una Pizza"
This is a Partner Song. One group sings the CHORUS while another group sings the VERSE.
Would you like to play along on your guitar or ukelele? I made a printable version with the chords for you.
You can also watch "Each of Us is a Flower" from my performance during the CAAEYC Conference last year. It's on my official YouTube channel, along with the full P.R.I.Z.E. Method presentation I gave at the conference. Visit the Music Education playlist for more videos!
My youngest grandson, Fraser, is now three years old, and he loves to sing "Slippery Fish" and "Sasquatch". I am teaching ukulele, guitar and singing to my older grandsons, William and Jakob. They do not live close to me, so we connect by FaceTime. Music and singing keeps our family together.
I am now performing "Live Concerts" again!! In May, I performed family concerts locally for Mother's Day, with my son, Matt. Fraser came, too. Then in late May, I teamed up with family performers, Fred Penner and Rick Scott for four special shows, "Best of Friends" at the Surrey Art Centre for the Surrey SPARK Stages. The shows sold out and everyone sang along! Very exciting for us all!
These concerts offered a chance to celebrate my new Picture Book "Charlotte Diamond's Animal Friends – a Collection of Songs"! Orca Book Publishers have just released my new Children's Picture Book in Canada and the USA,  It features beautiful illustrations (by Eunji Jung) for thirteen of my favourite Animal songs, like, "Octopus (Slippery Fish), "Sasquatch", "Dicky Dinosaur", "Ottie the Otter" "The Moose on the Loose" and "Animals Have Personality".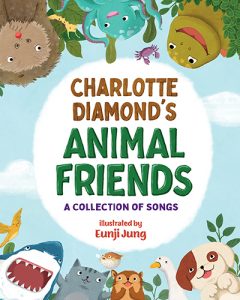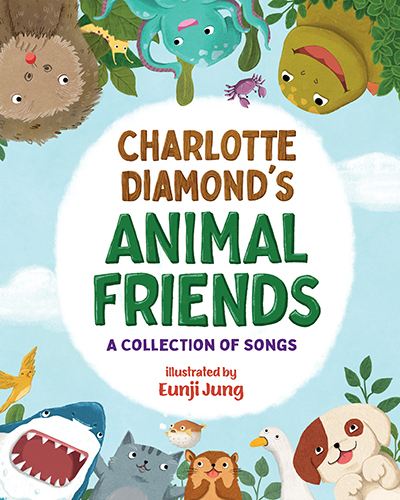 I hope that you will enjoy reading and singing with my book!  Please share the news with your local Booksellers, library, and teachers. "Charlotte Diamond's Animal Friends" can be ordered now from Orca Books!
My book received a Highly Recommended Review by CM Canadian Review of Materials.
One animal that fascinates me is the moose, a well-loved symbol of the Canadian wilderness. Happy Canada Day on July 1st! And Happy July 4th to my friends in America! You have Moose, too!
 I wrote "The Moose on the Loose" when I was touring in Duluth, Minnesota. A Moose became lost and wandered down a stream into town. Everyone was so surprised! What could they do?  What happened next? How did the Moose get back home??  To find out what happens, you will have to listen to my song and read my Book!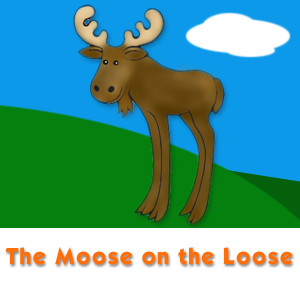 By Charlotte Diamond on "Diamonds by the Sea"
Copyright © Charlotte Diamond Music 2005 SOCAN
Chorus:
I'm the Moose, Moose on the loose,
And I didn't mean to wander away.
I'm the Moose, Moose on the loose
I was busy and I just didn't pay attention.
I'm the Moose on the loose.
1. Waded slowly into the stream,
The water was cool and looked so clean,
Filled with tasty roots and grass.
I ate and ate while time just passed.
2. Kept on grazing down the hill,
The tender grasses were farther still,
I never noticed the horns and toots.
I was busy munching tasty roots.
Chorus
Also available for purchase as a song download on my web site!
Vocal Performance or Band Track
A Gift For You!
Free Song Download!
Until July 15, 2022, I'm offering my newsletter subscribers only a free download of "The Moose on the Loose". CLICK HERE to go to the store, and then click on "Add to Cart". At checkout, enter coupon code posted in the newsletter. After you do, you'll see a credit in your shopping cart of $0.99 for the song purchase. Then proceed through checkout to get immediate access to your song download.
(If you aren't purchasing any other items, you won't be asked to enter a credit card. We do need your name, address, and Email address though, to process the order and give you access to the download file.)
 [Not subscribed to my Newsletter yet? Click here to sign up now so you'll be eligible for future offers!]
Have fun with your families this Summer.
I hope that you have a wonderful summer swimming, walking, exploring nature, and learning more about our Animal Friends!
Draw your favourite animal. Take a photo and send it to me by email or visit my Charlotte Diamond Fan Page on Facebook. I always write back!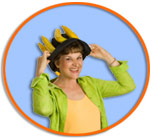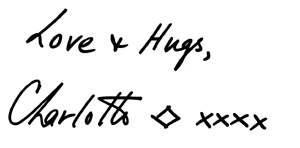 To join the Hug Bug Club, please send your name and address to our NEW mailing address:
Charlotte Diamond The Hug Bug Club 7045 Porpoise Drive Sechelt BC V7Z 0C8 CANADA
or email

fanmail@charlottediamond.com