Description
This is a song I wrote about a moose that lost its way…
One morning, several years ago when I was exploring the Yukon Territory, in the north west of Canada, I saw 7 moose on the loose. They were grazing for tasty roots in a large pond. There were 4 parents and 3 calves. What an amazing and beautiful sight! Ever since that day, moose and other wild animals have fascinated me. I hope that they will always be there for us to enjoy. They have families just like us.
This is an instrumental-only song download in MP3 format. Once your payment has been processed, you will be able to download the file immediately. (The link will also be sent to you by Email.) The file, in ZIP format, includes the MP3 version of the song band track plus PDF documents containing the song lyrics in English, French, and Spanish.
"Family performer, Charlotte Diamond, takes young listeners around the globe and into their own imaginations."

The San Diego Union Tribune, CA, USA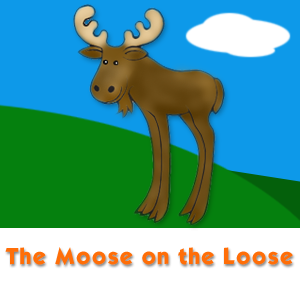 By Charlotte Diamond on "Diamonds by the Sea"
Copyright © Charlotte Diamond Music 2005 SOCAN
Chorus:
I'm the Moose, Moose on the loose,
And I didn't mean to wander away.
I'm the Moose, Moose on the loose
I was busy and I just didn't pay attention.
I'm the Moose on the loose.
1.
Waded slowly into the stream,
The water was cool and looked so clean,
Filled with tasty roots and grass.
I ate and ate while time just passed.
2.
Kept on grazing down the hill,
The tender grasses were farther still,
I never noticed the horns and toots.
I was busy munching tasty roots.
Chorus