Description
Marine and aquatic animals slip, slide and splash in our oceans, rivers and lakes. We imitate some of their movements when we swim, leaping like salmon, hopping like frogs or spouting like whales. This song was so
much fun to write, as I wove in as many animals as I could in rhythm and rhyme. Children can move across the floor and jump into the air, doing the actions with their hands and bodies.
This is a VOCAL song download in MP3 format, together with a PDF document that includes the lyrics to the song. Once your payment has been processed, you will be able to immediately download the zip file that contains both the MP3 and the PDF document. (The link will also be sent to you by Email.)
Splishin' and Splashin'


Play Clip
"Family performer, Charlotte Diamond, takes young listeners around the globe and into their own imaginations."

The San Diego Union Tribune, CA, USA
This song is also featured in Charlotte's new book, "Charlotte Diamond's Animal Friends – A Collection of Songs" with illustrations by Eunji Jung!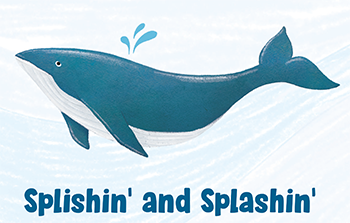 By Charlotte Diamond SOCAN 2000
CHORUS
Splishin'… Splashin'
Splishin' and Splashin' around in the water
I'm Splishin'… Splashin'
Jumping around making waves.
1.
I can dive in the water …
Slide like an otter…
Flip like a porpoise, spout like a whale.
I can leap like a salmon…
Float like a seahorse …
Slap like a beaver and I don't need a tail.
CHORUS
2.
I can croak like a frog …
Hop off a log …
Dabble like a duck and glide like a swan.
I can bark like a seal …
Spark like an eel …
Meow like a catfish deep in the pond.
CHORUS