Description
Non seulement les enfants qui se rendent à l'école à pied font-ils de l'exercice, mais ils établissent aussi un lien avec la collectivité. Ils cultivent des amitiés et racontent des histoires. Il y a tellement de choses à observer et à apprendre en groupes. Les enfants apprennent les règles de sécurité en les mettant en pratique. Dans ma propre collectivité de Richmond, en Colombie-Britannique, j'avais déjà entendu parler de l'Autobus scolaire pédestre et de la Semaine Marchons vers l'école, en octobre. Je voulais créer une chanson à l'appui de ces programmes.
This is a song download in MP3 format. Once we have confirmed your payment, you will be sent an Email with a link to a zipfile which contains the song download and a PDF file with the printed lyrics.
L'Autobus scolaire pédestre – Vocal


Play Clip
"Family performer, Charlotte Diamond, takes young listeners around the globe and into their own imaginations."

The San Diego Union Tribune, CA, USA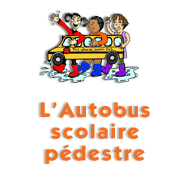 par Charlotte Diamond
(version française de "The Walking School Bus")
© Charlotte Diamond Music 2004, SOCAN
(Introduction)
Vroom! Vroom! Bip, bip, bip!
En autobus scolaire pédestre. (bis)
(Refrain)
Quand je vais à mon école
J'aime marcher sans soucis,
Aux côtés de mes amis
En autobus scolaire pédestre.
1.
Un parent nous accompagne,
Nous sifflons ou chantons un refrain,
Sans voiture quand ce n'est pas loin,
En autobus scolaire pédestre.
Cliquez ici pour les paroles de chanson complètes et plus d'informations sur le programme de L'Autobus scolaire pédestre.