Hello, Bonjour, Hola to my Hug Bug Pals!
Spring is awakening in my garden! The snowdrops and purple crocuses are popping their heads out of the ground and green buds are bursting in the Azalea bushes. Soon there will be colourful flowers everywhere!  It is time to explore outdoors to discover all the changes in Nature as the weather warms up.  Sing and "Whistle a Tune" like the birds in the trees. I hope they whistle back to you! This is one of my favourite tunes for spring. Add your own verses, make up actions and dance! Can you hear the trumpet?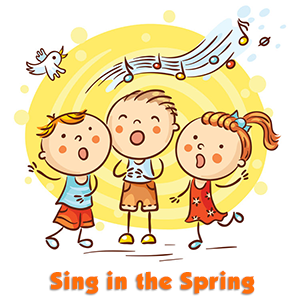 "Sing in the Spring" Vocal Song Download
CHORUS
Sing in the spring, sing in the fall
Sing when I hear my baby call
Sing all day, all night, too
Hush your crying and I'll sing for you.
1.
I had a canary all yellow and green
I had a canary all yellow and green
Strangest bird that you've ever seen
She thought that she was a human being.
CHORUS
2.
I used to have a tall giraffe
I used to have a tall giraffe
He loved to sing and he always danced
'Cause he had ants in his underpants.
CHORUS
3.
I used to have an orangutan
I used to have an orangutan
She liked to hang like a rubber band
And scratch her belly with her other hand.
CHORUS
By Utah Phillips and recorded by Charlotte on "Diamond in the Rough"
A Gift for Our Email Subscribers!
Free Song Download!
Until April 12, 2020, I'm offering my newsletter subscribers a FREE download of "Sing in the Spring." CLICK HERE to go to the product page in my store. Then click on "Add to Cart". At checkout, enter coupon code [hidden – only available to newsletter subscribers]. 
After you do, you'll see a credit in your shopping cart of $0.99 for the song purchase. Then proceed through checkout to get immediate access to your song download. (If you aren't purchasing any other items, you won't be asked to enter a credit card. We do need your name, address, and Email address though, to process the order.)
Did you miss out on the free song download? Click here to subscribe to the Hug Bug newsletter and you'll be among the first to learn about our special offers!
In Sechelt, we had a very cold. windy winter and there is still lots of snow on our local mountains. I wish I were up in the mountains snowshoeing; but I also like working in my garden and planting seeds.
Wintertime brings lots of colds, flu and now COVID-19, too.  We all need to remember to wash our hands with soapy water and not touch our faces. We don't want to pass on any viruses. It is fun to sing a song while you wash your hands.  Sing these words to my song, "Octopus (Slippery Fish)". Teach this song to your friends.

(To the tune of "Octopus (Slippery Fish)")
Wash your hands, wash your hands,
With slippery soap and water.
Top and bottom, through your fingers
Don't forget your wrists.
Wash your hands, wash your hands
With slippery soap and water.
Lots of bubbles, no more troubles
Wash them down the drain! Gulp, Gulp, Gulp!
By Charlotte Diamond 2020
Remember, please stay home when you are feeling sick. You will get better much faster.
The Seniors in your community may need your help to buy their groceries or pick up their medicines. They will need to avoid the crowds in the stores. Check in with your neighbours to make sure everyone is feeling well. Become part of a Community Team!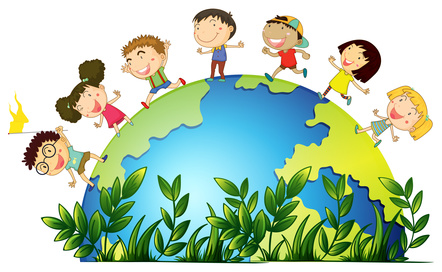 Let's Celebrate Earth Day on April 22 –  a special day that reminds us to protect our Earth and do what we can to create a healthy environment for all living things. Plant some flowers and vegetables around your home, at school and in your community.  Did you know that most fruits and vegetables that we eat have flowers?
"Each of us is a Flower, Growing in Life's Garden".  What is your favourite flower? Mine is carnations.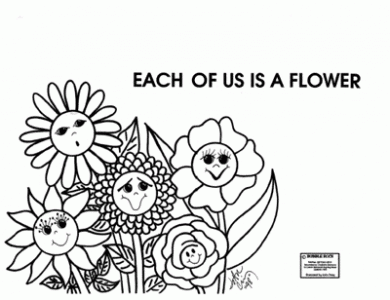 On Sale Now!
We are having a Special Sale on my web site for all of my Song Cards in English, French (Grands Livres) and Spanish (Libros Grandes)!  Let's sing and read "Three Books a Day" or more!
Simply colour the illustrated cards with washable felts, laminate, then add two rings at the bottom to flip over the pages. Enjoy Shared Reading of my favourite songs like "Octopus (Slippery Fish)" "I am a Pizza" (Je suis une pizza, Soy una Pizza), "Dicky Dinosaur", "Each of us is a Flower " … and more! Song cards can also be coloured, numbered, laminated, and used as readable placemats at home or in your Centre. They are easy to wipe clean. Need help? Ask for volunteer parents or teens to contribute their colouring skills. They can sign their names and each song card story will be unique!"
Click here for more information:
https://charlottediamond.com/wp-content/uploads/2019/03/Song-Cards-How-to-use-Eng.pdf

Happy Springtime to my Hug Bug Friends!
Adios, mis amigos, Au revoir, mes amis, Good bye, my Hug Bug Buddies. Keep singing and walking!
"I Have Shoes and I Can Walk"
Happy Easter and Happy Earth Day!
Visit my YouTube Channel: Charlotte Diamond Official to see your favourite songs.
I love to receive your letters and drawings. Write to me anytime and send your ideas to me by email or visit my Charlotte Diamond Fan Page on Facebook. I always write back!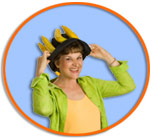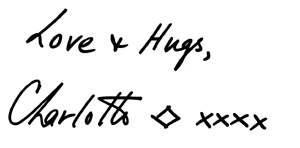 To join the Hug Bug Club, please send your name and address to our NEW mailing address:
Charlotte Diamond
The Hug Bug Club
7045 Porpoise Drive
Sechelt BC V7Z 0C8
CANADA
or email

fanmail@charlottediamond.com