Description
Charlotte Diamond's RED Valentine plush Hug Bug has arrived!
Hand-made in Canada and personally autographed, this adorable little Hug Bug is made of polyester and acrylic fabric. Hand-wash and air dry. Soft and huggable!
With every purchase, you will also receive a free Diamond in the Rough CD with the "Hug Bug" song, or another CD of your choice. Please make your selection below.
Please allow two weeks for shipping in Canada or the USA.
Available in Red (Valentine / Valentin) as shown here, or: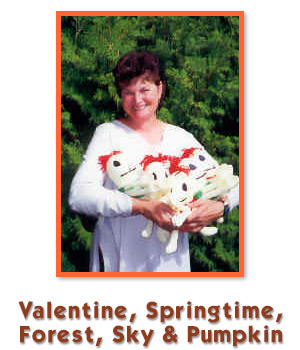 By Charlotte Diamond, May 22, 2007
Copyright © Charlotte Diamond, SOCAN 2007
CHORUS
Valentine, Springtime, Forest and Sky,
Pumpkin, too, goes rolling by,
Bringing you hugs and bringing you fun,
The Hug Bugs are coming to everyone,
1.
Valentine has a tender heart,
She'll give you a hug right from the start,
She is gentle and she is kind,
The very best friend you'll ever find.
2.
Springtime is purple and loves to plant flowers,
She works in her garden for hours and hours,
She grows carrots, lettuce and beets,
All sorts of vegetables you like to eat.
CHORUS
3.
Forest is green like the shady woods,
Going for walks makes him feel good,
He likes to look for spiders and slugs,
He is our ecological Bug.
4.
Sky likes watching the clouds drift by,
Making animals in the sky,
She likes to draw and stories she'll spin,
Watching the clouds dance with the wind.
CHORUS
5.
Pumpkin is rolly, polly and round,
He likes to joke and jump around,
He is orange, a colourful sight,
Like a Jack -o-lantern on Halloween night!
CHORUS